California Ag in the Classroom celebrates National Agriculture Week 2021!
Welcome students! Do the strawberry DNA extraction experiment that Mary did live on camera in your own kitchen!
Extraction Tutorial:
*70% rubbing alcohol works well too!
Here are the steps: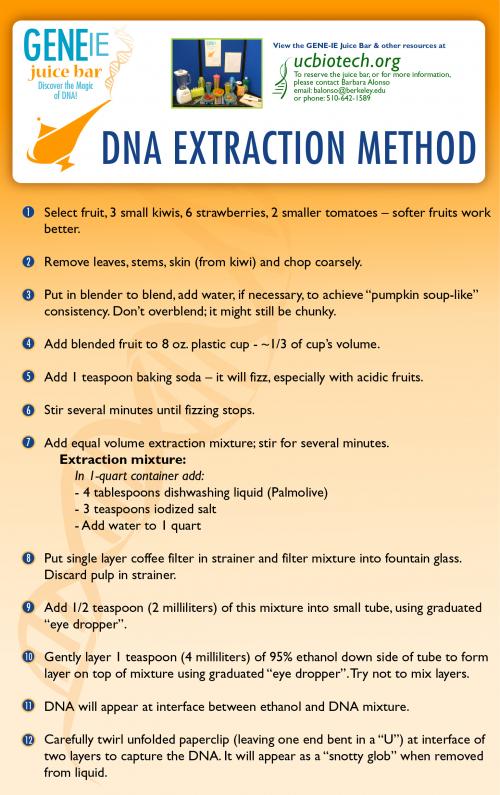 Here is the PDF version, and additional information on the activity.
Strawberry Fun Facts
Strawberries have 200-300 seeds each

The seeds are structures called achenes and are the 'true fruit' of the strawberry; what we eat is called the receptacle.

Strawberries are full of Vitamin C, just like oranges

Strawberries are in the Rose family

Cherries, peaches, almonds, raspberries, and apples are too!

Strawberries have 8 copies of their DNA

California produces enough strawberries to fill over 325 Olympic swimming pools

That's about 1.8 billion pounds per year

California grows 90% of the strawberries grown in the United States and sends them to over 30 countries

The scientific name for strawberry means "fragrant pineapple" (

Fragaria x ananassa

)

Strawberries are high in healthy fiber, folate, and potassium

Turn them into healthy candy! 

Place strawberries in a 200°F oven for 4 hours for a healthy alternative to candy.
In Case You Missed the Live Event:
On March 19th, 2021, I had the honor to virtually speak to over 5,000 students live from Silt Winery for California Farm Day. Performing one of my all-time favorite outreach activities (from long before I became a strawberry flavor researcher), I demonstrated to students how they can extract DNA from strawberries with kitchen ingredients. Since the strawberry is an octoploid plant containing eight copies of its genes compared to human's two copies, there is plenty of slimy DNA that even the youngest scientists can extract. While my colleagues and I use purer forms of DNA and other nucleic acids to determine which plants have the traits we want for releases or research, it's a great tool for teachers and guardians to use to teach kids that all living organisms contain DNA, even the food they eat!
Organized by the California Foundation for Agriculture in the Classroom, ten representatives from California's top ten commodities brought the fun and informative energy that the in-person Farm Day event usually has to classrooms virtually up and down the state. California's top ten commodities, as reported by the California Department of Food and Agriculture from 2019 reports, are: 
10. Tomatoes ($1.17 billion)

9.   Floriculture ($1.22 billion)

8.   Walnuts ($1.29 billion)

7.   Lettuce ($1.82 billion)

6.   Pistachios ($1.94 billion)

5.  Strawberries ($2.22 billion)

4.  Cattle and Calves ($3.06 billion)

3.  Grapes ($5.41 billion)

2.  Almonds ($6.09 billion)

1.  Dairy Products ($7.34 billion)
Learn More about Strawberries and UC Davis
---
Mary Madera is a  graduate student in the Plant Biology Graduate Group at University of California, Davis. For more content from the UC Davis science communication group "Science Says", follow us on Twitter @SciSays.
Tags