Listed here are a variety of resources to get you started on your scicomm journey, beginning with the basics. Importantly, we are a resource. Participate in our events to build your scicomm skills and practice them with us through blogs, video-making, or other projects you have in mind. You can put these events and skills on your progress reports for fellowships, individual development plans, or CV under professional development or outreach. If you want to be more involved, email us at davissciencesays@gmail.com. 
---
Scicomm 101
---
Science Reporting Resources
Science Communication Opportunities
Fellowships, Internships and Conferences
UC Websites
Academic and Research Organizations
Government Agencies
Non-Profits and Industry Organizations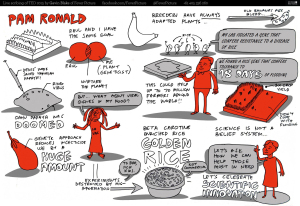 Media Outreach
Science Policy
Certain content on this website has been created with full academic freedom of expression by early career scientists at the University of California. Through our projects, Science Says, early career scientists are refining effective scientific communication practices under the guidance of UC faculty. We strive to present fact-based information grounded in the primary scientific literature. If you notice any facts that conflict with the primary literature, please send us the publication and we will review our project content to make sure we are representing the current scientific consensus. Questions, comments or suggestions should be directed to davissciencesays@gmail.com.