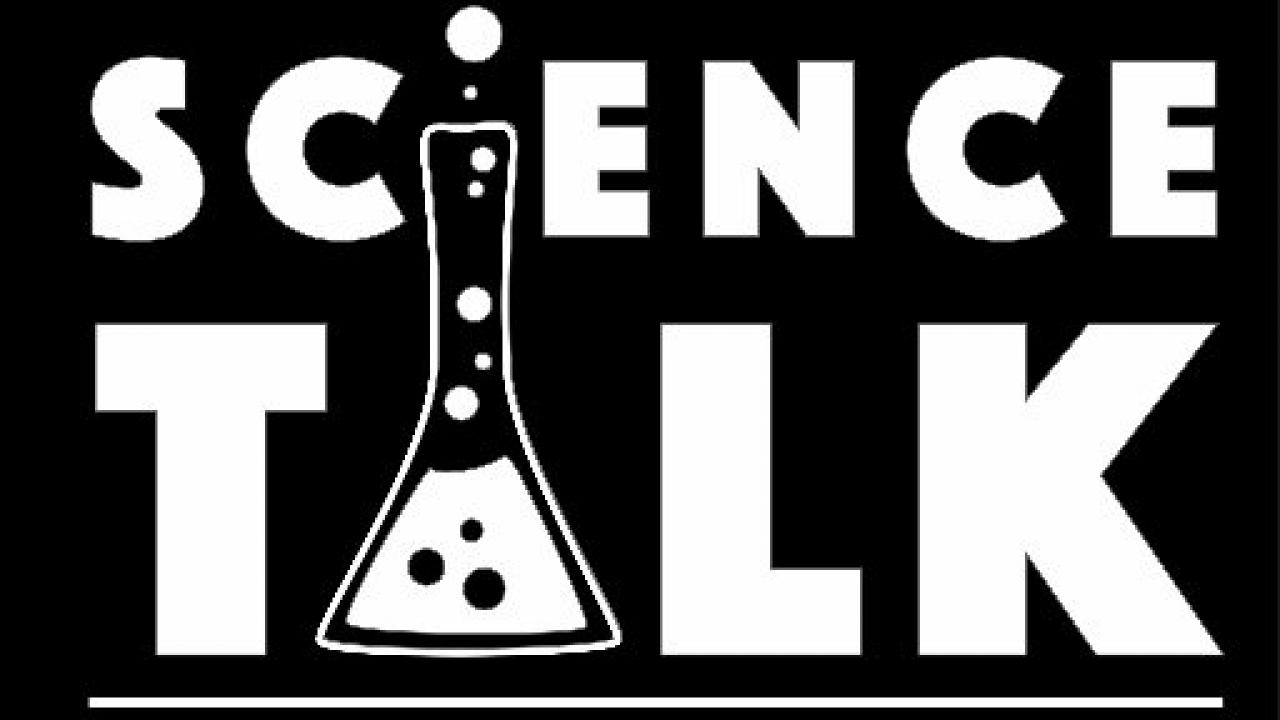 Struggling to make the importance of your science known to a broad audience? Annoyed with the way science is often portrayed in the media or misapplied in public policy? You're not alone, as the community gathered at Science Talk '19 made clear.
Science Talk '19 in Portland, OR, brought together a wide range of science communicators for two engrossing and inspiring days of learning and discussion about the best ways to talk science. The conference featured speakers, panels, presentations, workshops, exhibits, and networking opportunities focused on the theme of community. As such, this conference provided an open and inviting space for an entire community to gather.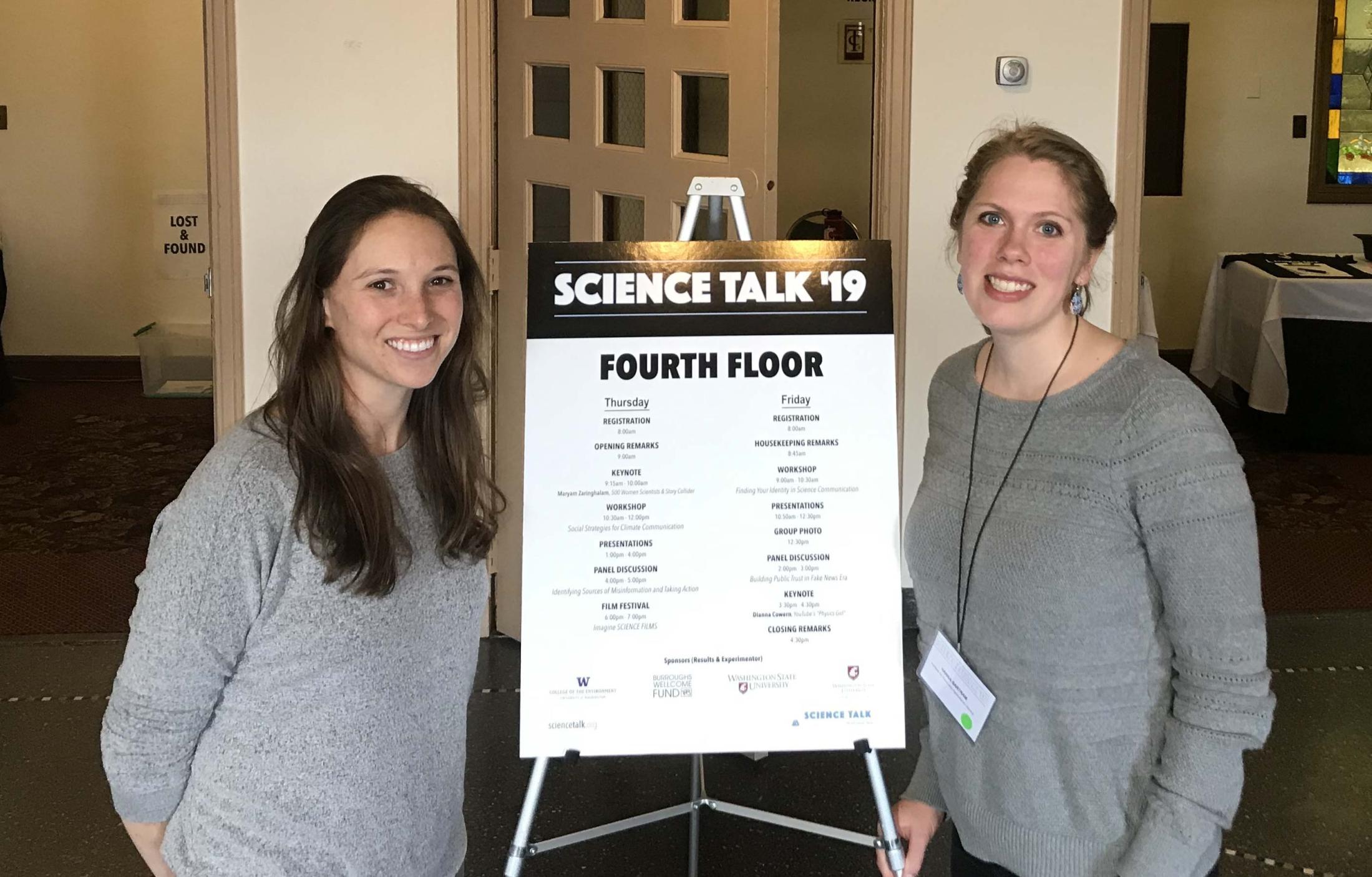 Thanks to funding from the Institute for Food and Agricultural Literacy (IFAL), Science Says member Logan Savidge and IFAL coordinator Hanna Bartram were able to attend this invigorating event and share some of what we learned.  At Science Talk, we continuously met people eager to help us with our science communication goals and collected dozens of online resources that would allow us to take a bit of the community home with us (and share with you!).
Why Science Communication Matters
Science communication seeks to inform the general public, increase STEM literacy, create a culture that values STEM, and reach a diverse audience. This matters! We want to have informed citizens who engage with scientific knowledge. The public's support is also critical to public funding for science. Unfortunately, there is a lack of formal communications training for STEM majors or graduate students, and few institutional opportunities for practical application. Including science communication in technical science training makes it less intimidating, helps students connect and understand material, and empowers participants by increasing confidence in scientific ability.
Through science communication, Dianna Cowern of Physics Girl says, we "aspire to inspire the next generation of curious people." Easier said than done, so how do we communicate science to this community?
First, build trust...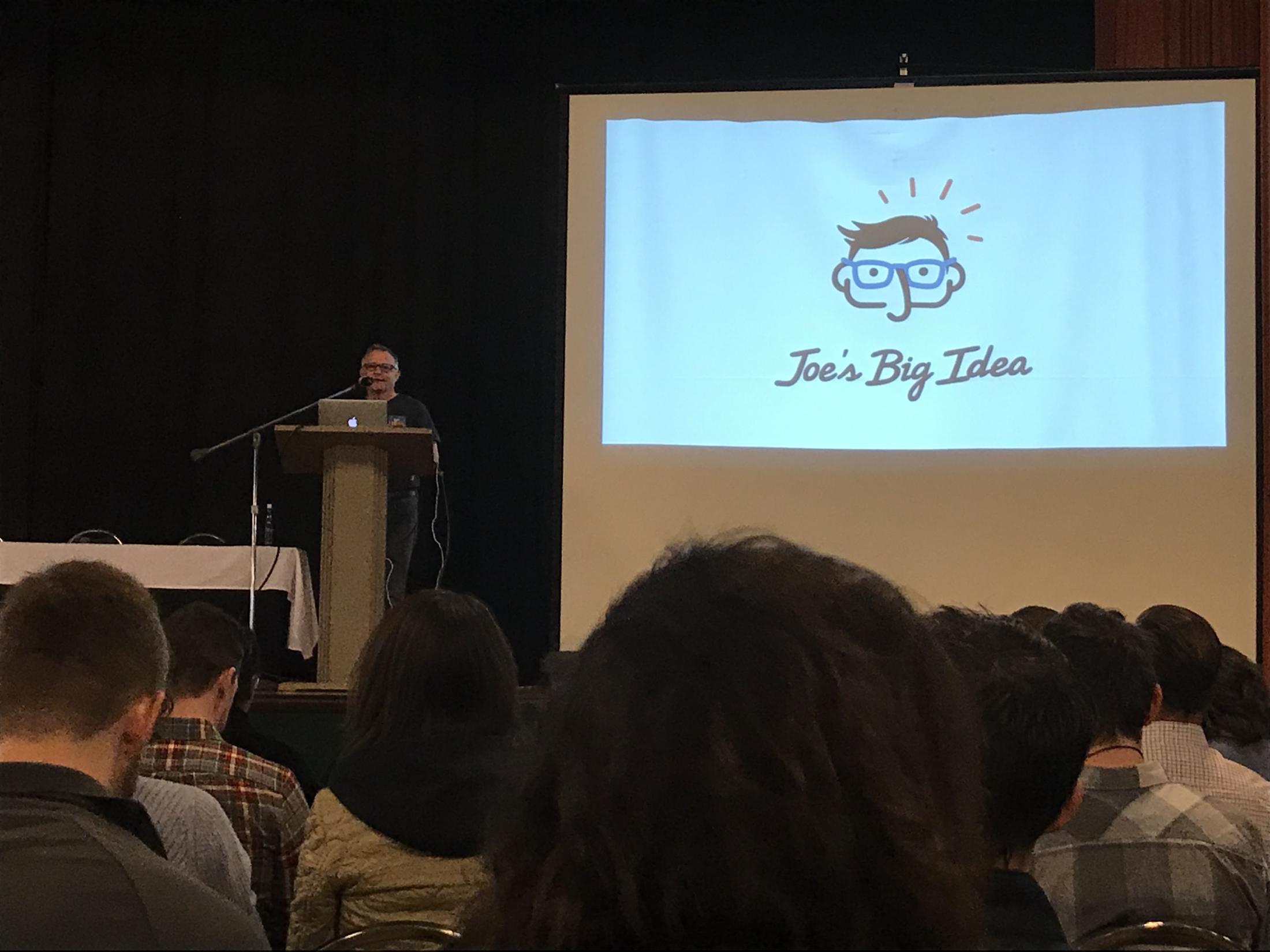 Science Talk '19  kicked off with inspiring opening remarks by NPR science correspondent and creator of Joe's Big Idea, Joe Palca. In his opening remarks, Palca reminded us to focus on our audience because "we all know how to talk to people, we just forget who we're talking to." Building relationships with people is important, "so when we have something to say, it seems credible and interesting to them."
It's important to be trusted in order to effectively communicate science. These days, alarming phrases like "war on science" and the "rise of scientific illiteracy" abound. To combat misinformation (false, but not intentionally so), disinformation (intent to mislead or cause harm), and malinformation (true information shared out of context in order to cause harm), we must build trust with our intended audience by avoiding a defensive approach. Here are some strategies for navigating difficult situations while simultaneously building trust (courtesy of Engage):
Acknowledge the perspective of your audience. As a science communicator it is important to remain calm when acknowledging a hostile comment or question. Take a minute to try and understand where the hostility is coming from to let the audience know they have been heard. These may seem like simple listening skills, but they are always harder to do in practice than in theory.
Focus your response on the science. Instead of simply refuting the comment or dismissing the claim, use this as an opportunity to inform the room or individual.
Redirect the conversation right back to the intended purpose. If you are addressing an audience, return to the presentation. If you are having a one-on-one conversation, redirect the focus to another aspect of the topic or the original goal of the interaction.

For examples of how to provide evidence-based science to an audience through public outreach in topic areas that may be controversial, check out the National Center for Science Education (NCSE), an organization that focuses on climate science and evolution in schools.
...through representation and storytelling.
Maryam Zaringhalam, of The Story Collider and 500 Women Scientists (a women-run grassroots organization focused on making science accessible and inclusive), delivered a rousing opening keynote. She pointed out a big problem in science communication: representation. Do the public faces of science speak on behalf of the hugely diverse science community?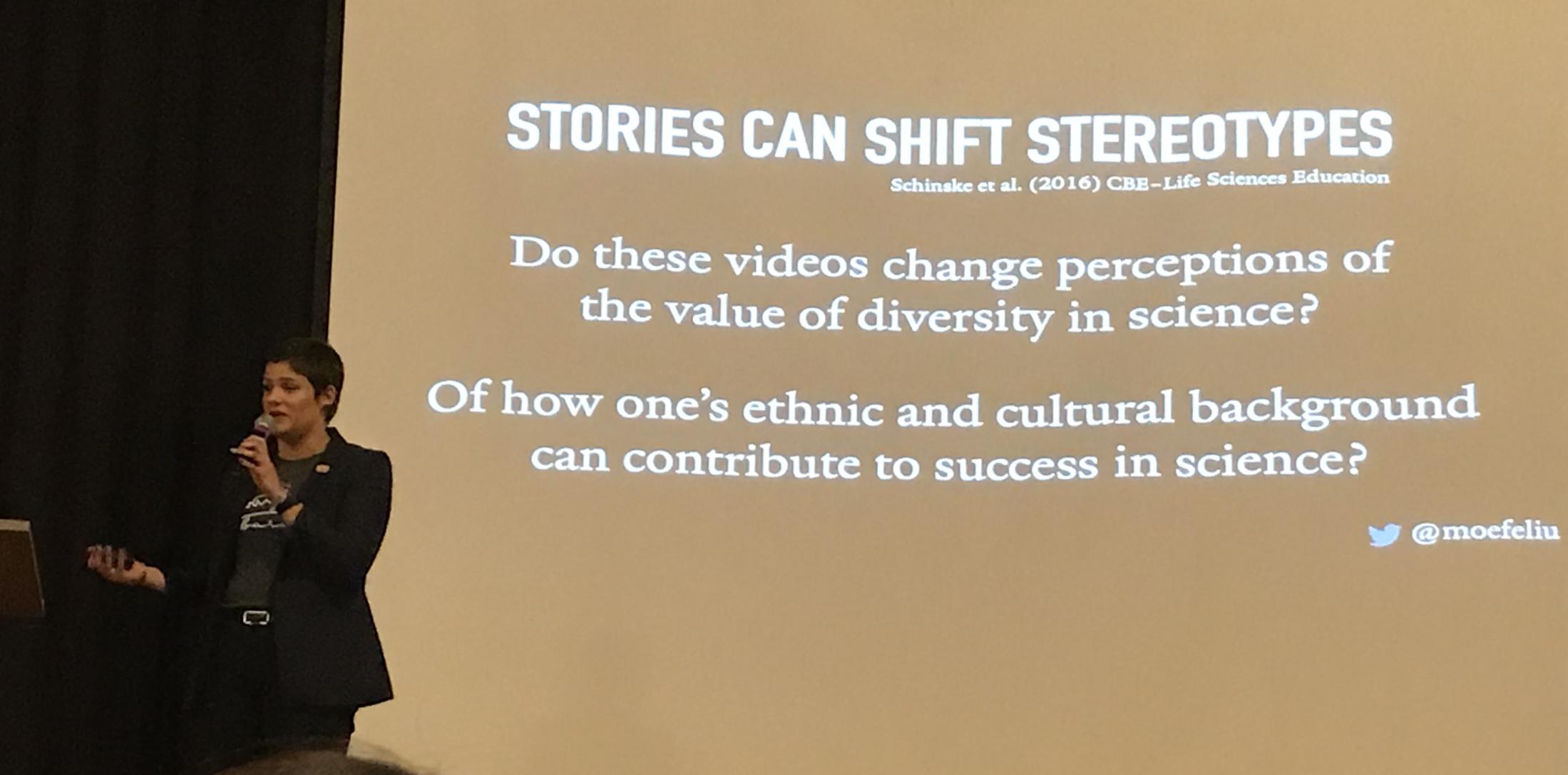 Storytelling can be used to change the narratives of diversity in science. Mónica Feliú-Mójer (Ciencia Puerto Rico and iBiology) showed us video examples of ways to flip the narrative to emphasize that scientists from underrepresented groups succeed because of their backgrounds, rather than despite them.
Stories help people make sense of information and can be a great tool for communicating science. In general, scientists are viewed as knowledgeable but not personable. The good news is, this is a solvable problem! We become approachable by bringing in our unique senses of humor and stories. As Zaringhalam pointed out, "facts delivered in a vacuum can't get us very far." We need to contextualize the facts, and why they matter to us and to the audience. Stories can be a great way to do this!
Why are stories so effective? Stories allow people to form connections and see themselves reflected in science. Stories help audiences feel they belong in the conversation about science. "Bringing our stories to science makes science better," Zaringhalam advised.
Importantly, stories can shift stereotypes and stories and storytellers can spark change!
There are many ways to effectively tell stories. For example, videos can allow scientists to speak directly to viewers and show new angles to a story that's been told many times. Use animations to underscore key points, as well as photos and b-rolls.
Popular science books can also be an effective science communication tool for telling more in-depth stories. Books get people thinking about certain sciences in ways they might not otherwise have done. A book can give a fuller story of a discovery or field, with enough space to explore nuances and expansiveness in scientific research and a deeper dive into the subject, and readers spend hours or days immersed in the science.  For some excellent popular science book recommendations, check out Joanne Manaster's list.
However you choose to tell your story, it's important to think about strategies to share your research and ideas.
Put Your Community First
"Put the community you're engaging with first. Put them at the center and get to know them. Ask yourself first: what you have to learn from them? And from there, ask: what can you offer?" - Maryam Zaringhalam
Traditionally, listening to communities is a last priority for scientists and scientific societies. It's time to elevate the value of their input. Science communicators need to have conversations that explore people's' needs and values. It's not enough to just combat misinformation. That approach perpetuates an "us vs them" mentality.
When communicating science, ask:

Who is your audience?

What are you trying to communicate?

Why does it matter to them?

How will you draw in your audience?

Are you the right messenger for this topic?

Can you identify the right person?
We can't individually reach everyone. We want to inspire action, spark curiosity, and help our audience draw connections. After all, "[i]f we had all the answers, scientists would be out of work," Zaringhalam pointed out.
It's important to understand what the local community needs to make science culturally relevant. (For examples, check out Ciencia Puerto Rico's public engagement and community service work). Tell a local story and encourage community involvement through hands-on experiments. Check out LabVenture or the youth-run Science & Us science communication program for ideas. Social media can be a powerful platform to communicate with your community in addition to local events.
Engage Your Community Through Social Media
Science and society are in dialogue, and social media is an important way to enter the conversation. To start, figure out your identity on social media, and the way you want to be perceived. In identifying yourself, it's important to establish credibility by explaining your affiliation with trusted institutions or organizations and to show your human side and relatability. This two-pronged approach will attract followers.
When figuring out how to engage with your audience, first define your goal for using social media in science communication and how to achieve them. What can you offer them? Next, think about your intended audience. What social media platforms are they using and do these align with your plan? Then there are practical concerns when it comes to the execution of the plan. Where does the content you share come from, how often will you post, and how will your content might be different or complimentary across platforms? Take time to examine metrics to evaluate your success and act accordingly.
Susanna Harris of PhDepression shared an example of creating a community through social media. PhDepression creates a safe space to explore mental health and grad school, primarily on Instagram. Her tips for building online community are:
Have a clear purpose.
Find a specific niche.
Share member contributions.
Allow for flexible growth.
Other tips courtesy of AAAS' Mary Catherine Longshore:

Make it apparent who you are addressing. For example, start a tweet with "Hey #ucdavis grad students! Check out…"

Look at the analytics that your platform provides.

Be active. Share on a regular schedule.

Be timely. Discuss current events and topics.

Be relevant. Add value to conversations.

Use hashtags. Connect to existing conversations.

Share visuals. Include photos, images, and videos.

Continuously collect content. Store evergreen content (content that is always relevant).

For more information, check out AAAS.org/comm-toolkit.
Science communicators need a community too!
During his presentation, Palca emphasized the importance of building a community amongst science communicators. He told us about the community he has been able to create through NPR Scicommers (formally known as Friends of Joe's Big Idea) and invited us to take part in the awesome programs he and producer Maddie Sofia have started. Their goal is to tell science stories in a new way. These programs include an Office Hours program where scientists can practice pitching ideas to actual NPR reporters! Pieces submitted by SciCommers receive final edits after which NPR facilitates a connection for publication.
Girls Talk Math points out that science communication can be used to build community because it:
Reduces isolation through collaboration on shared non-technical projects

Increases representation, since diversity of scientists naturally comes out

Increases sense of belonging: students (and other communicators) feel like part of a group of like-minded peers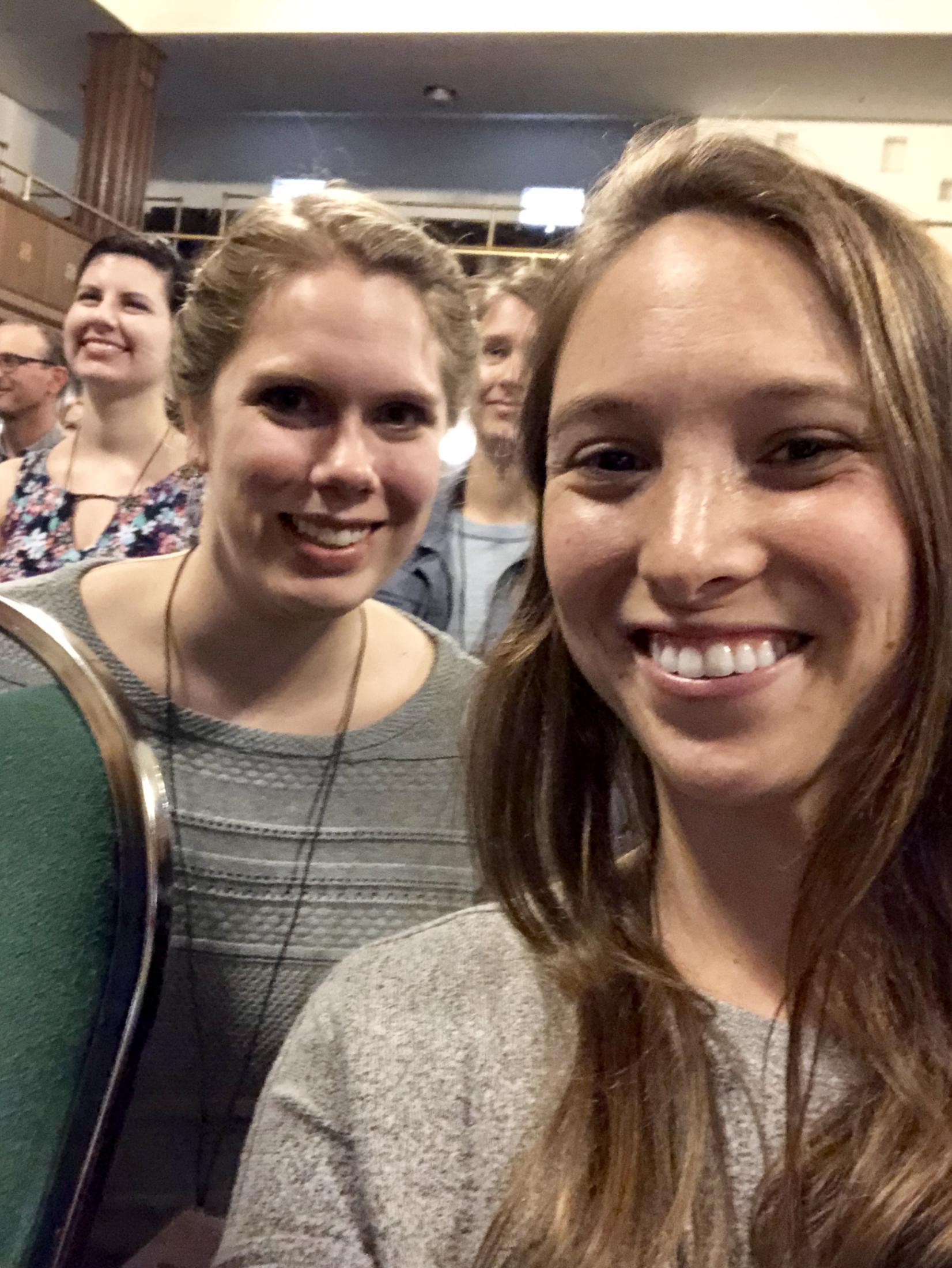 Science Talk '19 was packed with energy and enthusiasm about science communication. #SciComm can take many different forms delivered by a diverse community of science communicators. The two days were packed with fantastic information, and by gathering a vibrant group of people together, we were all able to learn from the experiences of the community. A key takeaway was that we need to bring out whole selves to our science communication: our experiences, fears, hopes, honesty, humor imagination, indignation, interests, motivations, pain perspective, stakes, truth, values, voice, and vulnerability. To learn more about this conference, check out the hashtag #SciTalk19. Thank you IFAL for sponsoring our attendance this year.
---
Hanna Bartram is the Program, Educational, and Outreach Coordinator for the UC Davis Institute for Food and Agricultural Literacy (IFAL). She facilitates Science Says and organizes science literacy and communication events, social media outreach, grant writing, and serves as a liaison between the campus and community. Follow her and IFAL on Twitter @hanna_bartram @FoodAgLiteracy.
Logan Savidge is a graduate student in the biological psychology program at UC Davis. She works with titi monkeys in Karen Bales' lab to study the biology and neuroscience of parent-child or adult partner attachments. She is also currently working as the public information officer for the California National Primate Research Center (CNPRC). She manages their social media platforms and provides content for the website. Follow her and the CNPRC on Twitter @Loganesav @CNPRCresearch.
For more content from the UC Davis science communication group "Science Says", follow us on Twitter @SciSays.
Category
Tags