Women's History Month 2021
We highlighted awe-inspiring women in STEM all month long for Women's History Month. We certainly loved learning about all these amazing women (and many more we didn't have enough weekdays to include!). We love seeing these women push against the boundaries of gender bias in STEM and refuse to be held back. Every month of the year, we will, and urge everyone, to continue supporting women of all colors, in every field, and from all backgrounds to keep pushing every boundary and crushing every obstacle. If, like us, you've been insatiably inspired by the women we highlighted all month and want to read about even more amazing women in science, check out these links, too!
22 Pioneering Women in Science https://www.sciencefocus.com/science/10-amazing-women-in-science-history-you-really-should-know-about/ 
10 Women in Science Who Changed the World https://www.discovermagazine.com/the-sciences/meet-10-women-in-science-who-changed-the-world 
Women Who Dared to Discover https://www.amightygirl.com/blog?p=11511 
16 Women Scientists to Inspire Students https://www.weareteachers.com/women-scientists/ 
20 Amazing Women in Math and Science https://www.livescience.com/amazing-women-in-math-and-science.html 
50 Top Women in STEM (Who are still alive and rocking their fields!) https://thebestschools.org/features/50-top-women-in-stem/ 
10 More (Still Alive) Women https://www.wired.com/story/10-women-science-tech-household-names/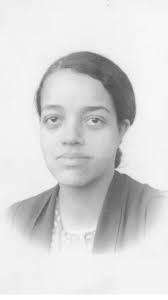 Dorothy Vaughan
Dorothy Vaughan (1910-2008) arrived at NASA (then called the National Advisory Committee for Aeronautics) in 1943 and was promoted to lead the West Area Computing Unit in 1949, a segregated all-women unit. In this role, she was NASA's first Black supervisor and one of a few female supervisors. During her time at NASA, she became an expert programmer. Her story is famously described in the movie Hidden Figures.
Read more about her here: https://www.nasa.gov/content/dorothy-vaughan-biography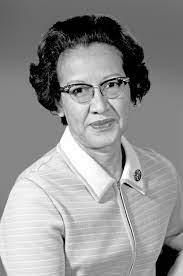 Katherine Johnson
Mathematician Katherine Johnson (1918-2020) was one of the first Black students to integrate into West Virginia University's graduate school in 1939. She was a gifted mathematician despite not completing her graduate degree, and worked under Dorothy Vaughn at the segregated West Area Computing Unit at NASA. Johnson performed the trajectory analysis for the first American manned spaceflight in 1961 and, famously, worked to confirm the calculations for John Glenn's 1962 orbital flight. She is one of the characters whose story is featured in the movie Hidden Figures.
Read more about her here: https://www.nasa.gov/content/katherine-johnson-biography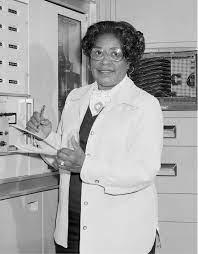 Mary Jackson
Mary Jackson (1921-2005) was another notable figure working under Dorothy Vaughn at NASA. She completed courses to become NASA's first female Black engineer in 1958. She was honored with many awards including being posthumously awarded the 2019 Congressional Gold Medal. NASA's headquarters in Washington, DC, are named after her.
Read more about her here: https://www.nasa.gov/content/mary-w-jackson-biography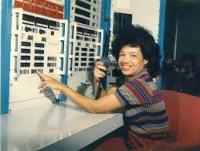 Dr. Christine Darden
Dr. Christine Darden was a math teacher at Virginia State in 1967 when she was hired to be one of the human computers at NASA. Frequently asking why men were engineers but women weren't led to her promotion to aerospace engineer and later her PhD from George Washington University. She became the leader of the Sonic Boom Team and was the first Black woman to hold the top rank title of Senior Executive Service. Her work and life were also inspirations for the book and movie Hidden Figures.
Read more about her here: https://www.quantamagazine.org/the-nasa-engineer-whos-a-mathematician-at-heart-20210119/
Dr. Irène Joliot-Curie
Dr. Irène Joliot-Curie (1897-1956) worked on artificial radioactivity, which is the process of making a stable material radioactive. In 1935, she was awarded the Nobel Prize in Chemistry jointly with her husband for their work on synthesizing new radioactive elements. She was the second woman to win the Nobel Prize in Chemistry, since her mother, Dr. Marie Sklodowska Curie won it in 1911 after she also won the Nobel Prize in Physics in 1903 with her husband and Dr. Joliot-Curie's father, Dr. Pierre Curie. Her work also contributed significantly to the discovery of uranium fission. She also worked on creating the first French nuclear reactor in 1948.
Read more about her here: https://www.nobelprize.org/prizes/chemistry/1935/joliot-curie/biographical/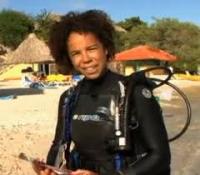 Dr. Ayana Johnson
Dr. Ayana Johnson is a renowned marine biologist and conservationist. She co-founded the Blue Halo Initiative and founded Ocean Collectiv and Urban Ocean Lab, among numerous other projects. She also co-hosts the podcast How to Save a Planet with Dr. Katharine Wilkinson. During her thesis work on various aspects of sustaining coral reefs, she invented a fish trap to reduce bycatch, winning the first National Geographic Solution Search award.
Read more about her here: https://www.ayanaelizabeth.com/bio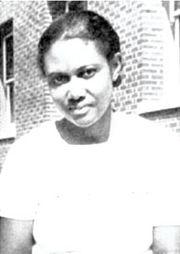 Dr. Roger Arliner Young
Dr. Roger Arliner Young (1899-1964) was the first Black woman to receive a PhD in zoology. After her Master's degree, she worked at Marine Biological Laboratory in Woods Hole, Massachusetts, during the summers where she researched the effects of radiation on sea urchin eggs as well as the hydration and dehydration of living cells. Additionally, she studied structures that control salt concentrations in Paramecium.
Read more about her here: https://www.sdsc.edu/ScienceWomen/young.html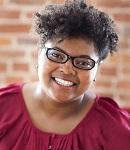 Dr. Danielle Lee
Dr. Danielle N. Lee is an assistant professor at Southern Illinois University where she researches how ecology and evolutionary components affect animal behavior. Importantly, she is a significant science communicator, running the blog The Urban Scientist for Scientific American and promotes minorities' participation in STEM.
Read more about her here: https://blogs.scientificamerican.com/urban-scientist/about/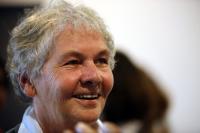 Dr. Christiane Nüsslein-Volhard
Developmental biologist Dr. Christiane Nüsslein-Volhard is well known for her work on Drosophila genetic screens, winning the 1995 Nobel Prize in Physiology or Medicine for identifying genes responsible for embryonic development. Since then, she has employed similar techniques in zebrafish which has led to significant advances in our understanding of transcription and evolution. She has also started the Christiane Nüsslein-Volhard Foundation to support young female German scientists, with the intent of facilitating childcare to supplement existing stipends.
Read more about her here: https://www.nobelprize.org/prizes/medicine/1995/nusslein-volhard/biographical/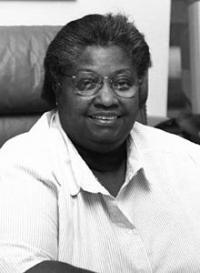 Dr. Alexa Canady
Dr. Alexa Canady was the first Black woman to become a neurosurgeon, specializing in pediatric neurosurgery at the Children's Hospital of Michigan where she served as Chief of Neurosurgery for the majority of her career. Simultaneously, she conducted research at Wayne State University. Through this research, she developed a method to treat hydrocephalus.
Read more about her here: https://cfmedicine.nlm.nih.gov/physicians/biography_53.html 
Dr. France A. Córdova
Dr. France A. Córdova has had a prestigious and diverse career beginning with her PhD in Physics from the California Institute of Technology. She began her career with the Space Astronomy and Astrophysics group at Los Alamos National Laboratory; after, she became a NASA Chief Scientist. She served in leadership roles at various University of California campuses as well as Purdue University. Ultimately in 2014, she was appointed as the 14th president of the National Science Foundation by President Barack Obama.
Read more about her here: https://www.nsf.gov/nsb/members/current_members/cordova.jsp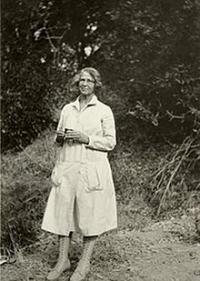 Ynés Mexía
Botanist Ynés Mexía (1870-1938) collected over 150,000 specimens from across the Americas, primarily from Mexico, Colombia, and Peru. Although she didn't begin her career in botany until she was in her fifties, she collected hundreds of new species, some of which bear her name including Mimosa mexiae and the type specimen of the genus Mexianthus. She was the first to collect specimens from what is now known as Denali National Park in Alaska. Her specimens and papers can be viewed around the United States including at nearby California Academy of Sciences.
Read more about her here: https://www.calacademy.org/blogs/from-the-stacks/archives-unboxed-ynes-mexia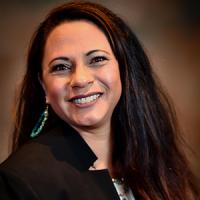 Andrea Delgado-Olson
American Indian Science and Engineering Society board member Andrea Delgado-Olson founded Native American Women in Computing in 2015, a community providing visibility and support to Native American women in technology and STEM. She also works to preserve Indigenous languages through curriculum development and education technology. Most recently, she serves as the Birds of a Feather co-chair within the Center for Minorities and People with Disabilities in IT. 
Read more about here here: https://cmd-it.org/news-recent/interview-with-andrea-delgado-olson/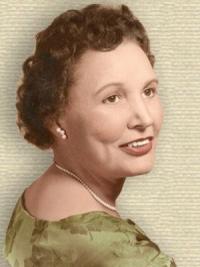 Mary Golda Ross
Mary Golda Ross (1908-2008) was the first known Native American female engineer, and the first female engineer at Lockheed. She worked on the Lockheed P-38 Lightning during World War II, one of the fastest planes at the time. She also was a founding member of the top-secret Skunk Works where she developed concepts for space travel and satellites. During her tenure at Skunk Works, she worked on preliminary concepts for missions to Venus and Mars.
Read more about her here: https://www.americanindianmagazine.org/story/mary-golda-ross-she-reached-stars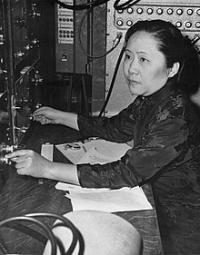 Dr. Chien-Shiung Wu
Dr. Chien-Shiung Wu (1912-1997) was an experimental physicist in nuclear physics. She confirmed the results of the Einstein-Podolsky-Rosen paradox (quantum entanglement). As an expert in beta decay, she collaborated with Tsung-Dao Lee and Chen-Ning Yang to prove that parity was not conserved, in the now famous Wu experiment that is a staple in the Standard Model of particle physics. Her collaborators won the 1957 Nobel Prize in Physics, without any acknowledgement of her contributions. Dr. Wu was awarded the inaugural Wolf Prize in Physics in 1978 for this discovery.
Read more about her here: https://www.atomicheritage.org/profile/chien-shiung-wu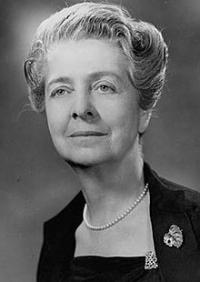 Dr. Rita Levi-Montalcini
Dr. Rita Levi-Montalcini (1909-2012) conducted foundational research in nerve development using chicken embryos while fleeing the Holocaust in a bedroom laboratory. While on a research fellowship after the war at Washington University in St. Louis, she replicated her results and earned a research associate position there. In 1952, she isolated nerve growth factor (NGF) which earned her the 1968 Nobel Prize in Physiology or Medicine.
Read more about her here: https://www.nobelprize.org/prizes/medicine/1986/levi-montalcini/biographical/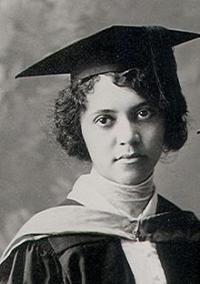 Alice Ball
Chemist Alice Ball (1892-1916) was the first Black person and first woman to graduate with a master's degree from University of Hawaii in 1915. She studied kava to develop an effective leprosy treatment and contributed to the end of leper colonies. Unfortunately, she died before publishing and her work was credited to Arthur Dean. This was corrected in 1922 when the treatment was posthumously named the "Ball Method."
Read more about her here: https://scientificwomen.net/women/ball-alice-121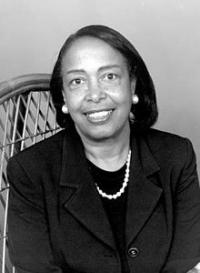 Dr. Patricia Bath
Dr. Patricia Bath (1942-2019) was the first Black woman to be granted a patent for a medical device, the Laserphaco Probe in 1988. The probe uses lasers to remove cataracts and restore patients' vision. She is credited with many other "firsts" including being the first Black person to serve as a resident in ophthalmology at New York University and first Black woman to serve as a surgeon at University of California, Los Angeles, Medical Center. In addition to her scientific work, she co-founded the American Institute for the Prevention of Blindness to encourage preventative eye care and provide ophthalmological services and education.
Read more about her here: https://cfmedicine.nlm.nih.gov/physicians/biography_26.html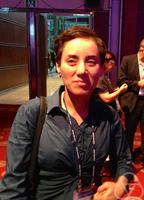 Dr. Maryam Mirzakhani
Dr. Maryam Mirzakhani (1977-2017) became the first Iranian woman to win a gold medal at the International Mathematical Olympiad in 1994. She is also the first woman (and only, to date) and first Iranian to be awarded the 2014 Fields Medal for her contributions to the mathematics of Riemann surfaces. Her research as a professor of mathematics at Stanford University covered hyperbolic geometry and symplectic geometry. She was also the first Iranian woman to be accepted into the National Academy of Sciences and her birthday, May 12th, is widely celebrated as International Women in Mathematics Day.
Read more about her here: https://mathshistory.st-andrews.ac.uk/Biographies/Mirzakhani/ 
Tu Youyou
Chemist and malariologist Tu Youyou screened over 2,000 traditional Chinese treatments to isolate a treatment for malaria. She discovered that sweet wormwood Artemisia annua was effective if the as-yet unidentified active substance was extracted at low temperatures. Later, she and her colleagues identified the substance as artemisinin, and synthesized dihydroartemisinin. For her work, she won the 2011 Lasker Foundation award and the 2015 Nobel Prize in Physiology or Medicine. Artemisinin is still used in malaria treatment today.
Read more about her here: https://www.nobelprize.org/prizes/medicine/2015/tu/biographical/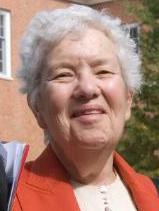 Dr. Vera Rubin
Dr. Vera Rubin (1928-2016) conducted her doctoral research on galaxy clustering before moving into galaxy rotation in her career. Her discovery that outer regions of spiral galaxies moved as quickly as those close to the center supported the hypothesis that these galaxies were surrounded by dark matter. Her continued work ultimately became the first results to support the theory of dark matter. She has received many honors and awards due to her work, including the 1993 National Medal of Science and five honorary doctorates. Additionally, there is an observatory named after her in Chile that focuses on dark matter and dark energy research.
Read more about her here: https://scientificwomen.net/women/rubin-vera-86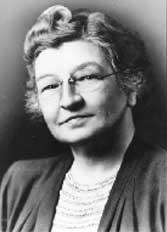 Edith Clarke
Edith Clarke (1883-1959) was the first professional female electrical engineer, among other "firsts." She worked as a supervisor of computers in General Electric's Turbine Engineering Department. While there, she invented the Clarke calculator, an early graphing calculator that could solve equations containing hyperbolic functions ten times faster than previous methods. She also developed turbines installed in the West Hoover Dam that still generate hydropower today.
Read more about her here: https://www.ge.com/news/reports/edith-clarke-mother-of-invention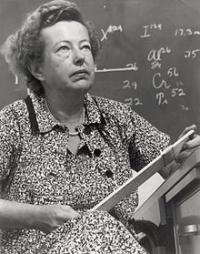 Dr. Maria Goeppert-Mayer
Dr. Maria Goeppert-Mayer (1906-1972) was the second woman to win a Nobel Prize in Physics in 1963 after Marie Curie. She developed a mathematical model for the structure of nuclear shells which explained why specific numbers of nucleons in the nucleus of an atom resulted in stable configurations. Her doctoral research focused on the theory of two-photon absorption, which was later verified after the advent of the laser. The unit for this absorption is named after her: the Goeppert Mayer unit.
Read more about her here: https://www.nobelprize.org/prizes/physics/1963/mayer/biographical/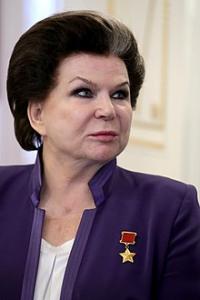 Valentina Tereshkova
An experienced skydiver, Valentina Tereshkova qualified as one of the five first female cosmonauts to begin training in 1962. Due to a variety of factors, she was selected as the first (and youngest) woman to fly in space in 1963 on the Vostok 6 mission. She is still the only woman to have flown a solo space mission. Photos she took during her mission of Earth's horizon were used to identify aerosol layers in the atmosphere.
Read more about her here: https://www.theguardian.com/global-development-professionals-network/2017/mar/29/valentina-tereshkova-first-woman-in-space-people-waste-money-on-wars 
---
Mary Madera is a  graduate student in the Plant Biology Graduate Group at University of California, Davis.
Sydney Wyatt is a PhD student at the University of California in Davis. 
For more content from the UC Davis science communication group "Science Says", follow us on Twitter @SciSays.
Primary Category