February Newsletter
February Newsletter
Please VOTE for your favorite #sciart and sign up for our scicomm career panel! Read on to find out more, and please share widely with your networks.
---
SciArt Contest Voting
Submissions are in for our #sciart contest! Please vote for your favorites below. Voting is open February 1-12, 2021.
---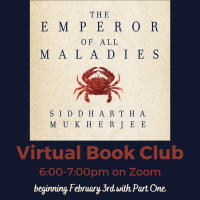 Science Book Club
We're reading The Emperor of All Maladies by Siddhartha Mukherjee   this winter-spring book club, starting Wednesday February 3rd at 6:00pm. To learn more and get on the email list, check out the link below.
---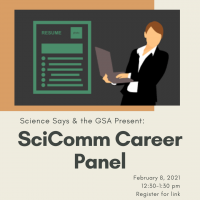 SciComm Career Panel
On February 8 from 12:30-1:30 via Zoom, we will be hosting a SciComm Career panel in association with the UCD Graduate Student Association.
---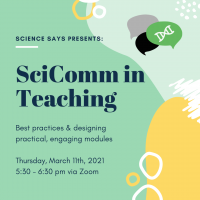 SciComm in Teaching
On March 11th at 5:30pm we will be hositng Jeff Hescox from the UCD C-STEM Center to discuss scicomm in teaching.
---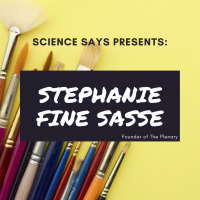 SciComm and Art
Science Says is hosting Stephanie Fine Sasse, founder of The Plenary, on April 22nd at 5:30pm to discuss the unique intersection of art and science communication.
---
Sharing SciComm Projects
Do you have a cool science communication project you'd like to share? Are you interested in trying blog writing? Email us at davissciencesays@gmail.com 
The average person interacts with science through news outlets, yet science is constantly evolving with every new paper's results. Often, results are sensationalized to grab the attention of readers instead of honestly reporting the material. So how do we, as scientists, report science responsibly and effectively?
Citizen Science Project
Want to participate in a citizen science project? If you're in the Tahoe area during winter storms, keep your eyes on the sky and report whether it is raining, snowing, or a wintry mix. It is especially helpful if you can record when rain changes to snow, or snow changes back to rain. 
With your observations, Tahoe Rain or Snow is working on better estimating how much water falls on the Sierra Nevada during winter. This is difficult with current satellite technology, especially in the mountains, so they need observations from all over the region. 
To sign up, text WINTER to 855-909-0798.
---
Resources, Opportunities and Virtual Events
Let us know if you hear about any resources or opportunities that our group may be interested in! davissciencesays@gmail.com
Volunteer for a "Meet a Scientist" Panel!
Practice your scicomm, build your outreach and tell your science story (or stories about your science)! Science Says meets virtually with classrooms and public science events like North Bay Science Discovery Day to talk about our journeys and answer audience questions. More information to come.
UC Grad Slam
Grad Slam is annual contest in which master's and PhD students across the UC system compete to share their research for a general audience, with the chance to win a cash prize! Competitors should explain the significance and fundamental points of their research at UC Davis geared towards a general university audience. Submitted presentations should be no more than three minutes long. 
Register by February 11, 2021.
iBiology's Share Your Research Competition
The Share Your Research competition is a science communication training program from iBiology, in partnership with the Albert and Mary Lasker Foundation and the Rita Allen Foundation. Eight winners will attend a series of virtual science communication workshops in May 2021 to improve their submitted talks. It is a fantastic opportunity for early career scientists to improve science communication skills and share research with a global audience.
Applications are due February 15, 2021.
NCI Communications Fellowship
The National Cancer Institute (NCI) is accepting applications for their communications fellowship. Fellows are offered one-year fellowships in various offices at NCI. Graduate students and recent graduate degree recipients are encouraged to apply.
Applications are due February 26, 2021.
Science Talk '21: March 24-26, 2021
Science Talk is an annual science communication conference featuring workshops, presentations and networking opportunities; this year's theme is "Resilience." Presentations cover topics like "How to be Resilient Against Fake Science," "How to Make Your Message STICK in People's Brains" and "Experimental Error: Writing Science Humor."  Workshops discuss topics like bridging communication gaps, visual design for science communication and communicating with science averse audiences. This is a great training and networking opportunity we hope you will enjoy!
California Council on Science and Technology (CCST) Policy Fellowship
CCST is seeking PhD scientists and engineers for a year of public service and government leadership training in the California State Legislature and California state agencies. The CCST Science Fellows program trains scientific thinkers to be policy-savvy, while helping equip California's decision makers with science-savvy staff. This fellowship is open to those holding a PhD or equivalent degree in science, engineering, or social science fields such as economics, sociology, or psychology. 
Application deadline is March 1, 2021
Fellowship: November 1, 2021 - October 31, 2022
PAID SciComm Internships
Check out this thread on Twitter for a list of fantastic upcoming scicomm internships in 2021.
FREE Science Writing Course
This free online course from the University of Leeds covers many types of science writing as well as how to give successful interviews and gather accurate information for your piece.
Tags