Driving Impact Through Art and Science
Many of us appreciate wondrous scientific discoveries, pushing the boundaries of our knowledge and unlocking the secrets to our world. Many of us also appreciate beautiful prose, illustrations, sculptures and other artistic creations, capturing our imagination. In both cases, the world gains something new — a new idea, a new way to think about the world, or maybe some new inspiration for your own work. 
So why do we often portray art and science as opposite ends of a spectrum? Why do people consider themselves an "art person" versus a "science person?" 
We invited Stephanie Fine Sasse, founder of The Plenary, to explore a different viewpoint: instead of treating art and science as separate entities, why not have them work together? In a time when scientists face challenges in properly informing the public on issues relating to climate change, racial inequities, healthcare and so forth, conventional views that science is objective and straightforward is not helping to change the conversation. By developing a relationship between art and science, we can create something new that allows the world to explore our societal issues in an engaging and informative way.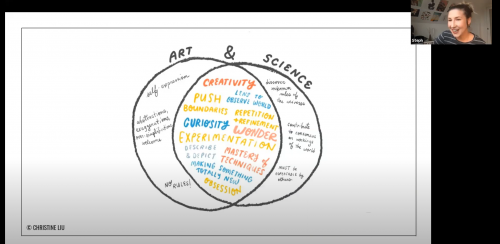 How do we encourage this relationship? Part of building these connections is understanding that the arts and sciences may not be as different as people assume. In Steph's talk, she highlighted multiple similarities:
Experimentation.

Just as a scientist performs experiments to collect data, an artist experiments with different materials and modes of expression to achieve their desired outcome. 

Creativity.

Scientists, similar to artists, need to think outside of the box in order to figure out why their system acts a certain way, or to design an experiment that fully answers their question. 

Openness.

Many people think art is open to interpretation, but at science's cutting edge, scientists debate what conclusions the evidence can support. 

Using either as a lens to observe our world.

Art and science offer multiple perspectives that we could integrate into our collective knowledge. Just as two artists can view the same object differently, a microbiologist and a plant biologist can also view the same plant disease differently.
OK, so art and science don't seem so different after all. Now what? We can nurture the relationship between art and science. Steph illustrated three different examples that resulted from the union of science and art. 
Insight and Catalyst
How can art shape inquiry? 
As scientists, we quickly narrow down our research so it fits within the "rules" set by our field's standard protocols and have to convince others that our project is worthwhile to pursue in order to receive funding. This limits us to a finite number of options to pursue. Neri Oxman, an Associate Professor of Media Arts and Sciences at the MIT Media Lab, is one example of a scientist who found a way to break out of the typical scientist mold and use art to drive some of her scientific questions. She coined the term Material Ecology to describe her line of work, which considers computation, fabrication and the material itself as inseparable dimensions of design. In this approach, products and buildings are biologically informed and digitally engineered by, with and for Nature. Not only does her work explore the possibilities of what living systems are capable of, it also helps invent new technologies that can synthesize materials. 
Another example of art leading inquiry is Theaster Gates's work. He engages the social issues of race and culture in Chicago, one of the most segregated cities in the United States. He transforms properties in impoverished Black communities in Chicago into highly-acclaimed studio and exhibition spaces which attracts the attention of many sociologists studying economic development and community revitalization. Gates' ability to use the creative sector to bring about social change in these areas helps sociologists rethink the role that the arts can play, rather than thinking of the arts as a tool of gentrification and driving urban development.
Enrichment and Exchange
How can the arts spark innovation?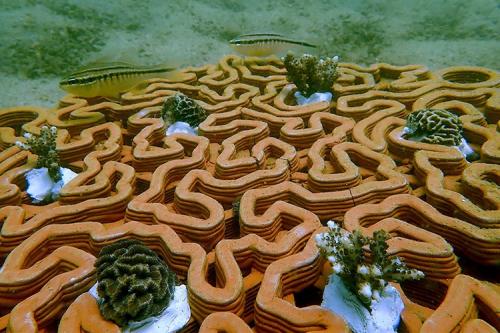 Artists work with a wide range of media, and like Neri Oxman, artists invent new media that can be useful to scientists as well. Steph cited a very tangible example of this happening. Architects and scientists at the Swire Institute of Marine Science in Hong Kong have collaborated to design game-changing 3D-printed terra cotta tiles to encourage coral reef growth in areas where coral populations have been decimated by pollution. The design provides the coral with many crevices to grow in, and the terra cotta itself is a promising eco-friendly material.
Steph is also really fond of Dr. Daniele Foresti, a Branco Weiss fellow in Dr. Jennifer A. Lewis' lab at Harvard. Daniele grew up loving to tinker with things — his brand of scientific curiosity focused more on what's possible than what's true. He went into engineering to explore how "things" are made and how to tinker with those "things." As a mechanical engineer, he used science as his sandbox and centered his work around tinkering. He eventually discovered how to use sound waves to move liquid through air. With this invention, he collaborated with a 3D printing expert to improve current 3D printing technology. His story illustrates a different perspective on science: it doesn't always have to be about a research question so much as a research discovery. 
Access and Amplification
How can art motivate action?
Many science communicators are already familiar with this relationship. How do we take science and make it a) accessible to the general public and b) convince people that we need to take collective action? There are many ways that people can do this in both visual and nonvisual arts. Steph highlighted many of these in her talk.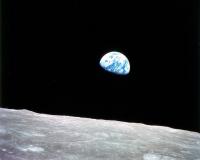 One of the most influential images of all time is William Anders's Earthrise — a simple photo of Earth from the Moon. The Earth looks so small compared to the Moon, surrounded by darkness. The Earth's lovely swirls and bright blue ocean create a shimmering jewel in the vastness of space. To me, this makes me think that we live in a uniquely special place, a place that I'd want to keep uniquely special. What better way to convince people that we need to take care of our planet than acknowledging its beauty?
Interactive demonstrations are also an interesting way to illustrate a really big problem. You might be familiar with Parable of the Polygons by Vi Hart and Nicky Case (but if not, check out the interactive demo). Using a simple art style in an interactive user format, the user learns about how just a hint of individual bias can change the entire makeup of the population. By allowing the user to adjust the simulation to experiment with different levels of individual biases, the user learns just how big of a difference individual biases can make. Overall, it gets you thinking about your own biases and how much of an effort we need to make in order to change a world that has already been segregated by individual biases. 
Many of our members and followers sent in wonderful artwork as part of our SciArt Contest. These works of art say so much about our world and how special it is to be a scientist. We hope that all of you who are creating science-themed artwork keep doing it! 
Steph's work with The Plenary combines different fields of research across sciences with principles of art and design to create a collaborative, creative, and interactive experience for audiences. Their mission seeks to reimagine the way we learn about the things that matter most. For example, their flagship art exhibition It's Only Human focused on human bias. They have also put together profiles and stories of diverse scientists in their I Am a Scientist project. 
We're excited to see what Steph and The Plenary are up to next, but for now, we hope that Steph's talk gave you some inspiration on how you could start fostering a relationship between science and art.
---
Jessica Trinh is a PhD student at the University of California, Davis. For more content from the UC Davis science communication group "Science Says", follow us on Twitter @SciSays.
---
If you're interested in reading more about science and art, feel free to check out the links below: 
The Plenary: https://theplenary.co/
Neri Oxman's Projects: https://www.media.mit.edu/people/neri/projects/
Theaster Gates's Projects: https://www.theastergates.com/projects
3D-printed Terra Cotta article: https://mymodernmet.com/coral-reef-terra-cotta-tiles/
Daniele Foresti's feature on I am a Scientist: https://www.iamascientist.info/daniele-foresti
Tomás Saraceno's work on spider web architecture: https://studiotomassaraceno.org/
Parable of the Polygons: https://ncase.me/polygons/
SciArt Submissions: https://davissciencesays.ucdavis.edu/news/and-winner
Primary Category
Tags