North Bay Science Discovery Day 2021
"If skeletons are hard, how do our bodies grow skeletons?"

"What opportunities are there for high school students to get research experience?"

"What are good and bad things that can affect our brains?"

"If the sun is behind the moon, why doesn't the moon burn up and why don't astronauts die?"

"Do you ever find being in research frustrating? What excites you about science?"
These are just a few examples of the questions our panelists got from over 500 people signed up for our three panels during this year's virtual North Bay Discovery Day. 
Discovery Days are the free, multi-location grand finales of the Bay Area Science Festivals, which are usually a full 2 weeks long in October and November. I've been participating as an exhibitor at the North Bay Discovery Day every year since 2017 when fires forced many Napa exhibitors to cancel and San Francisco exhibitors (including me) were asked to help out to ensure the eager young scientists of the North Bay were not disappointed during a very scary time. Needless to say it is one of my favorite science outreach events and I look forward to interacting with hundreds of excited and curious kids at our strawberry DNA booth each year.
This year, due to the on-going pandemic, the organizers were once again forced to delay and change their plans, which typically start almost a year before the festival, to adapt for a purely virtual event. Condensed into just one day, participants were invited to register for nearly 40 sessions about bats, NASA, bees, wildfires, doctors and, of course, meeting their friendly neighborhood SciSays scientists.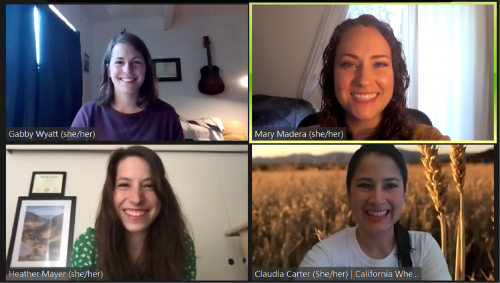 We were able to feature 7 UC Davis researchers from SciSays during 3 "Meet Some Scientists" panels to answer as many questions as we could before the session was up. Although a few of the registrations were for children under 5 years old, most were between 8 and 16. We all agreed that we were impressed with questions asked and had a blast answering them. One of my favorite moments was when a younger participant asked if they'd get to meet real scientists, and how she exclaimed "YAY!!" when I told her that she had just met 3 very real scientists. We were surprised to hear questions ranging from the basic "Is a bacteria a virus?" to "What internships are there for high school students interested in becoming scientists?". One of our panelists, SciSays Outreach Coordinator Jessica Trinh, was delighted that many of the participants were asking questions about plant diseases, which she wasn't sure many people were interested in.
Mark your calendars for March 12, 2022 for the next North Bay Discovery Day which will be once again in person at the Sonoma County Fairgrounds. 



We absolutely love Q&A with students! If you are a teacher interested in having scientists virtually visit your classroom, email us:

davissciencesays@gmail.com
---
A big thank you to our panelists:
Claudia Carter (she/her) is a food scientist and the Executive Director of the California Wheat Commission. She loves working with local schools to grow wheat and mill the flour for making tortillas, pastas, and breads with the students.
Heather Mayer (she/her) is a psychologist researching how babies bond with their mothers. She loves studying how the brain affects our behaviors.
Gabrielle Wyatt (she/her) is a plant biologist and first year graduate student in the plant biology graduate group where she aims to study plant natural products. She loves plants and believes that plants are the best chemists on earth.
Cassondra Brayfield (she/her) is a material scientist and engineer that has spent four years in industry and is now researching alternative fuels in a chemistry lab to help save our environment. 
Jessica Trinh (she/her) is a microbiologist studying a costly citrus disease. She enjoys using storytelling and art to talk about science.
Mrittika Roy (she/her) is an international grad student and an inorganic chemist who studies the chemistry of metals and round carbon cages known as "buckyballs", and gets to work with fun crystals and brilliantly colored solutions everyday. Sometimes her chemicals hiss at her but it's not personal.
---
Mary Madera is a  graduate student in the Plant Biology Graduate Group at University of California, Davis. 
Jessica Trinh is graduate student in Microbiology at University of California, Davis.
For more content from the UC Davis science communication group "Science Says", follow us on Twitter @SciSays.
Primary Category
Tags