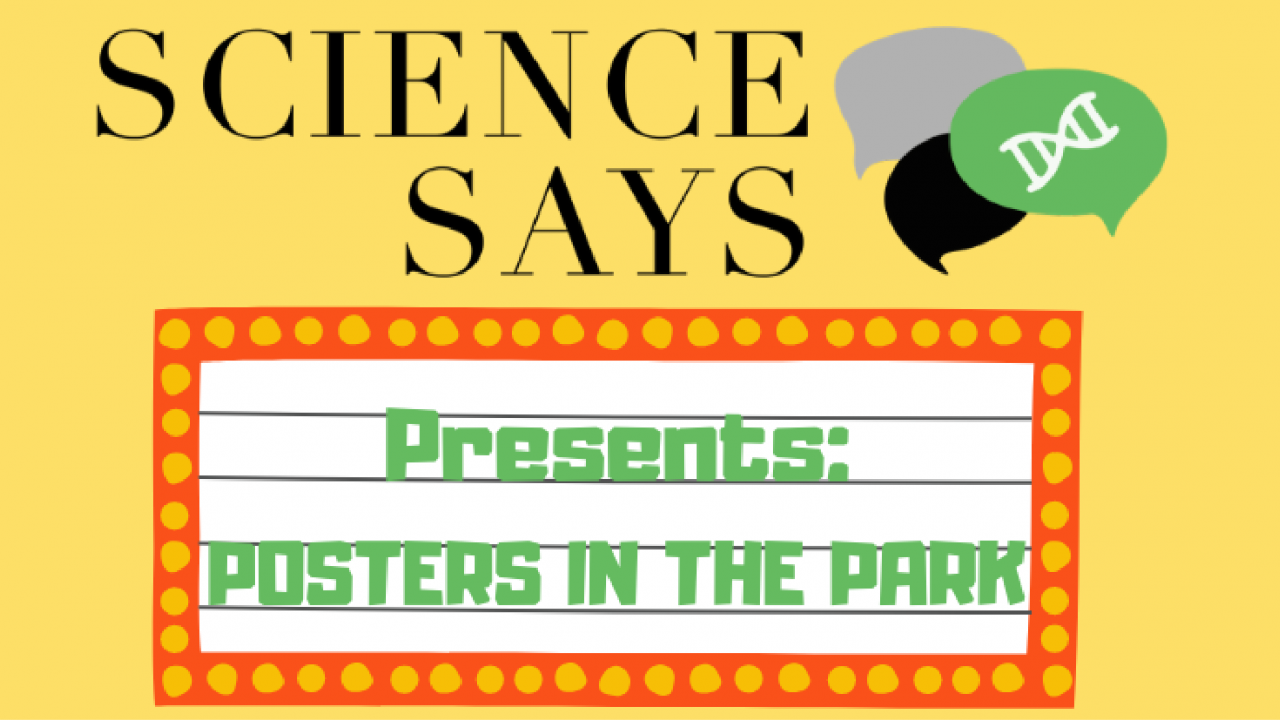 We have all been to a science conference where half of the talks or posters are too complex for most of the conference-goers. We have also tried to explain our work to somebody outside of our labs – a member of our cohort, a faculty member, a roommate, a family member – and failed to explain it clearly. For those of us in science outreach, communicating difficult research can get ten times harder when we go to community events and talk to non-science members of the public. Why is communicating our daily work so difficult for most of us? 
We don't practice speaking to non-expert science and non-science audiences enough. Most of the time we talk about our work with PIs and lab mates who already know what we do. But when we talk to scientists in other fields, our roommates, families, or people at the farmers market, it is all too easy to lose them early on with details, graphs, and jargon that are unnecessary to get our point across. It becomes easier for people to avoid asking us about our work, and easier for scientists to communicate within their circle of experts. This is detrimental to the field of science as a whole, reducing transparency and multi-field collaboration, fostering misguided fear and misinformation, and hindering public policy decisions that rely on clearly communicated scientific updates on matters like COVID-19, climate change, the effectiveness of ecological conservation, etc. Simple tricks and casual practice are easy ways to rebuild your communication framework and reconnect with non-experts at conferences, in manuscripts, in meetings, at home, and in the community.
Enter Posters in the Park. 
The goal of Posters in the Park is two-fold: (1) give Davis researchers an opportunity to create and present a poster made specifically for a non-science audience, and (2) give the Davis community an opportunity to interact and converse with UC Davis researchers in a casual, open setting. 
The Event:
What: A poster session for the public.
Who: Free and open to everyone.
Where: Location TBD, but will be an open, high-trafficked public park in Davis.
When: Postponed COVID-19 date will be a Saturday in mid-late October. ***Original date was Saturday June 6th, 2020
Easels will be displayed in the park for researchers to hang their posters. Coffee and light snacks will be provided for presenters and the public. Presenters will be expected to be at their posters for 2 hours during the 3 hour event. People will vote on best presenter and best poster; each winner will receive a $100 gift card.
The Posters:
We invite any and

all Davis researchers

to make a poster of their work specifically for this event. 

Lab mates are welcome to highlight the lab's work as a whole or partner up. 

Faculty, Post-docs and undergrads are welcome. 

Please be sure no confidential research is used and make sure your PIs give the okay!

We are fundraising so

we can offer to print

most if not all of the posters for this event. 

Posters should be smaller than an average conference poster and be

readable by non-scientists

.

This means simplified figures, overall concepts, and no jargon! 

Essentially, turn your public-friendly elevator pitch into an eye-catching poster with an emphasis on simplified images and fewer words. 

We are hosting several workshops to

help people prepare these special, pared-down posters

. 

The skills, figures, and posters made for this event are perfect for adaptations into your next manuscript, talk, lab meeting, or conference.



Contact us at

davissciencesays@gmail.com

if you wish to participate or have questions.
Category
Tags